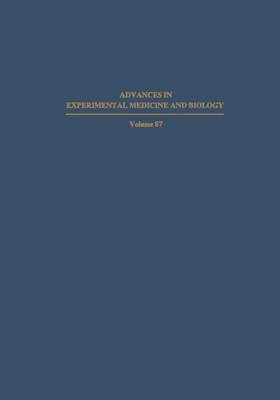 Bookhype may earn a small commission from qualifying purchases. Full disclosure.
The proceedings of a workshop conference are presented in this volume entitled Hypothalamic Peptide Hormones and Pituitary Regulation. The workshop was held in Wilson Hall on the campus of the National Institutes of Health, Bethesda, Maryland, during the days of November 1-2, 1976, and is the most recent of three symposia on neuroendocrinology that have been sponsored by the National Institutes of Health. The first one was held on December 6 - 8, 1961, in the New Everglades Hotel at Miami, Florida. During the first meeting, much emphasis was given to the anatomical and physiological basis for the fledgling science of neuroendocrinology. The proceedings of that symposium were published under the title of Advances in Neuroendocrinology, A. V. Nalbandov (ed. ), University of Illinois Press, Urbana, Illinois, 1963. The second workshop was held on January 8 -11, 1969, in the Arizona Inn at Tucson, Arizona, and was unique in several respects.
It was evident to the participants that definitive identification and the determination of the chemical structure of at least one hypothalamic releasing factor was at hand (see Workshop Conference on Bioassay and Chemistry of the Hypophysio- tropic Hormones of the Hypothalamus: ~Critical Evaluatioi'i':-J. Meites, ed. , The Williams and Wilkins Co. , Baltimore, Maryland, 1970). Much of what was presented at the second workshop was dedicated to methods of bioassay of the various releasing factors.
ISBN10

0306326876

ISBN13

9780306326875

Publish Date

1 August 1977

Publish Status

Out of Print

Publish Country

US

Publisher

Springer Science+Business Media

Imprint

Kluwer Academic/Plenum Publishers
Format

Hardcover

Pages

366

Language

English