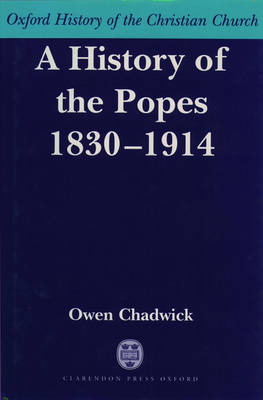 Bookhype may earn a small commission from qualifying purchases. Full disclosure.
Could a Pope ever consent to be the subject of a political power? Owen Chadwick presents an analysis of the causes and consequences of the end of the historic Papal State, and the psychological pressures upon old Rome as it came under attack from the Italian Risorgimento; and not only from Italy, but from liberal movements in Germany, France, Spain, and Portugal, as well as Tsarist Russia as it oppressed its Polish subjects. If a united Italy was to be achieved, the
State must disappear.

These pressures caused Popes to resist 'the world' rather than to try to influence it, to make the Vatican more of a sanctuary behind high walls, and to preach the more otherworldly aspects of Catholic faith. At the same time they met new moral demands: the rights of the labourer in industry, divorce, toleration, which they could confront because the Revolution had destroyed the powers of the Catholic kings over their churches, and therefore Catholic authority could be far more centralized in
Rome.
ISBN10

0198269226

ISBN13

9780198269229

Publish Date

16 April 1998

(first published 1 January 1998)

Publish Status

Active

Publish Country

GB

Publisher

Oxford University Press

Imprint

Clarendon Press
Format

Hardcover

Pages

624

Language

English